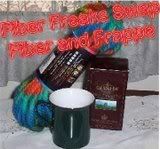 at the Fiber
Freaks Summer Swap
! Open to all members, so if you are a member, come over and sign up.
Taking a page from
Fiber Femmes
, we're having a Fiber and Frappe swap-a skein (or two, equally at least 200 yards) of good fiber and tea/coffee. Sign ups til the 28th.
Wanna be a member, just
apply
. Spinners, knitters, crocheters, weavers.........