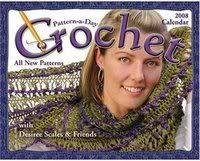 The
Table of Contents
is up on their site now (warning: pdf file), so if you sent them a pattern and aren't sure if they used it (when you submit the pattern, you hold the rights, but you sign the release with the submission-so they don't necessarily contact you if they used it)-check it out. I have three patterns in the calendar this year:
April 5th and April 6th- Links of Color Wrap
August 21 and August 22-Girl-About-Town Felted Bag
December 29th-
Spiral Tape Measure Cozy
The tape measure cozy is a free pattern up on my blog now. The other two I did at least a year ago-both were tested (so don't worry).
Bron
has a pattern this year and
Mimi
has three also. Anyone else out here?
The Crochet Pattern A Day Calendar for 2008 will be available at
Amazon.com
on September 1st and they're taking pre-orders now.
I don't know when contributors will get theirs, but last year they came around the beginning of October, if I recall correctly.
They're taking
submissions
for 2009 now until 12/15/2007 for both the knitting one and the crochet one. And no, I haven't written any patterns since the cozy, so I guess I should get cracking.