I don't know what happened with the blog yesterday-I tried to switch it from the domain name to the blogspot name, but that takes time (on their end) and I'm not sure if I did something to make it right or it righted itself.....I assume it's up for all of you again.
Angela-I saw that other yarnsandmusings.blogspot and tried to get the name, but she already had it, but hasn't posted since last year. I don't know how long they hold the name once someone doesn't post.
Kari, Elena isn't out of school til June 14th-although each week has some different "fun" activity planned and the end of the year is always, always crazy.
I swear I feel worse today then yesterday-the antibiotic has me nauseous, the stuffy head has me dizzy with pounding headaches-I'll know by tonight if it's helping. I want to sleep, but the head stuff constantly keeps me tossing and turning. I do have to go out today and return a pair of sandals I picked up for Elena. She has wide feet in the front, narrow in the back, nothing can go between the toes, around the big toe-lots of rules and I end up buying and returning like mad. She tries some on, they feel all right and then she wears them at home for a few and complains. Yesterday, she wore these cute little sandals and she loved them (for how they looked), but I realize, she had a spurt in the several weeks since I bought them and the store said they would exchange them-if they had the same shoes (this is Elena's rule)-they must be the pink polka dot. A delivery came in yesterday afternoon and this stuff sells out fast, so I
have
to go. What I want to do is curl up and go to sleep-not a chance of that happening either.
I did finish
Mimi's
Drawstring Bag: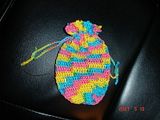 This was done with the
Cannon Multicolor
thread and a C hook.
I want to make a bigger one, but my stuffy head is interfering with my whole "thought" process on starting chains and such, so maybe next week. This isn't done just "in the round"-Mimi has a method on shaping I haven't tried to figure out the multiples of yet.
I started the silk
Adina
for myself last night using the
hand dyed silk
I received from
The Sanguine Gryphon
a couple weeks ago. I did go up a hook size on the starting chain and then went down for the start of the body and it's working out well, although it may be too soon to tell.
As for the eBay and Boye Needlemaster-the seller contacted Paypal, full of apologies. She thought her sister shipped it out, etc, but she did finally ship yesterday and included the tracking info. She also sent me an email apologizing and saying she was including "extras" in the package, etc. I should have it by Friday, I would think. I realize stuff happens, but an email before would have been nice.
Gotta run....