I hope everyone who celebrates it had a terrific day. Elena woke me up bright and early to scream "Happy Mother's Day!" in my ear-the joy of it all *wink*.
I'm not much for pressies for Mother's Day and Mike had Elena pick me up a garden rock that is painted and says "If Mother's were flowers, I would pick you"-it's cute and Elena was proud. My mother bought my a Mother's Day gift too-some Bath & Body Works eau de toilette in Fresh Vanilla and a glass candle holder and candle from Yankee-I liked em both!
We spent the day in
Ventnor
, which is the next town over from Atlantic City-at my brother's place. He just redid his house and it looks terrific. It was much cooler there then it was at home, the seabreeze always amazes me, but we did make it to the beach, although we froze our butts off in the processs (all except Elena). Nice day though. Now, I will share some pics:

Notice Elena's bag-yup, she swiped it for herself and used it!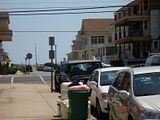 Ignore the trash cans, look down the street-see the ramp? Go up that, cross the boardwalk and you hit the beach!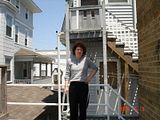 Elena took this pic and don't I look thrilled?! I swear I am not nearly as bitchy as I always look! It's been a long time since I lived "high density" style and it freaked me out how many decks and porches surrounded us.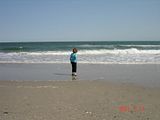 Elena hitting the beach-yes, it was chilly and the water cold, yet Elena still had to "feel" it. Crazy kid. I adore the center pic and want to order copies made.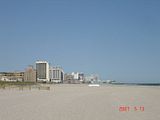 See how close Atlantic City was??!!

And finally, Elena with her beloved Tyler, on his chair (note the Phillies throw) in the sun room-she adores that cat!