Why one shouldn't be lazy:
First off, I decided to dye some yarn-mistake one
Mistake 2, I decided to try Wilton's
Mistake 3, I should have walked upstairs and gotten the gloves out, but didn't because I never really had a problem before.
Mistake 4: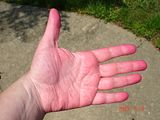 This was taken in sunlight-the front is equally as red as are the nailbeds.
This happened because the dye never exhausted itself correctly-I never had so much dye in the rinse bath as this time. The colors also were not as expected. I used leaf green, pink and violet and ended up with: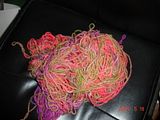 Red, olive (from the pink saturating into the green) and purple.
Mistake 5: After tiring of rinsing over and over again, I decided to put it in the washing machine, on hand wash cycle and do the rinse there-lazy again.
Mistake 6: See mistake 4-the tangled mess is what came out of the washing machine.
It's drying now and I will try and detangle it once it's dry.
Now I get to go to the school looking like I have some rare disease on my hands (and trust me, it looks worse in person). I think I'll stick to Kool-aid and get a pot (again lazy) for dyeing that way and use the Jacquard.