A blog contest-Leslie of
Fiber Femmes
hosted a newsletter contest from the regular
Fiber Femmes
site. What did I win?? A copy of the book
"Hit By A Farm"
. It had some great reviews and I am looking forward to reading it. I also checked out Catherine Friends' blog (the author) and what a super blog it is-
Farm Tales
. Once I am done, I'll have a little blog contest and pass it on.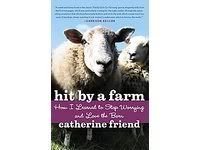 Thanks Leslie for hosting the contest!