I do have a FO: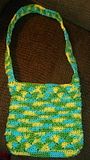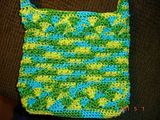 Pattern: The Exchange Bag from SnB Happy Hooker
Modifications: None
Yarn: La Espiga Hilos Omega No 18 Nylon-color Caribe (and I don't see it's an available color any longer)
The snap isn't sewn in yet, but I will get that done later. I like the strength of the La Espiga, just didn't like how crocheting with it was brutal on my wrist and fingers. I have almost a whole roll left over (this used probably a smidge of the other roll, but I am not sure, since I started a new roll worried about running out mid round. I have to figure out something to make with the leftover roll, but have had enough crocheting with the nylon to this week.
The La Espiga is available at Hobby Lobby, which isn't in my part of the country. However, I found a website that sells both the LaEspiga, as well as Sinfonia Cotton and even has some patterns (free and buy).
Crochet Style Etc