Sometimes my daughter's brain kills me-this is one of those times.
Background: Every year, this time of year, we have a slight ant problem in the downstairs bathroom. They aren't sweet eating ants, just little ante that get in through the drain. It's been rainy, warm during the day-hence an ant problem. The back part of the house (where the bathroom is located) doesn't have a basement under it-another cause for the ants. I spray some non-chemical ant spray, smells like mint and it kills them, but they don't go away til the time they're supposed to. As I said, a problem every year.
Elena finds some pleasure in these ants and every night scours the bathroom til she finds one, puts it on her finger and tells me it's a pet and names it. I promptly tell her to "get rid of it"-she makes a face and then disposes of it.
This morning she is brushing her teeth and sees an ant. She is babbling to me about it and I use the word babble because, well the kid talks a lot and a lot of it is babble in the morning. The morning for me is packing lunch for Elena, making sure she has her stuff in her backpack, grabbing clothes for her, etc. Hectic because I oversleep a lot (not major oversleep, but hit the snooze button at least twice). I run through the bathroom and see a disposable bathroom cup on the sink and Elena is babbling about an experiment with an ant and can I leave it there all day. "Okay" is all I say and I don't look at it or anything.
I take her to the bus stop, get home and start my usual "pick up pjs off the floor, wash breakfast dishes", you know, the everyday stuff. I walk into the bathroom and see this: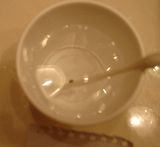 clickable
Bad pic, I know, but it's an ant, inside a cup with water with a Q-tip inside (what she used to scoop it it, I don't know, I will ask her later)-but what got me was this: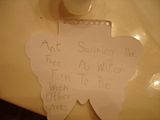 clickable
I recall her asking me if ants could read and me telling her I didn't think so, etc. I had no clue why she was asking and again, babble in the AM is common here (hence this post). Little did I know, she left a note for them-as a booby trap and enticement to see if any and read it, jump in the waterless pool and meet their demise. I am half tempted to find some ants and put them in the cup so she thinks her little trap worked. She's a smart one, isn't she?