Kimberly
posted a graduation pic of herself and a pic of her now (she didn't change much at all really) and I thought I wouldn't be able to participate since I figured, in the 12 plus moves I've made over that time period, those pics were tossed, left behind or somewhere at my mom's. Well, today, while digging through an old box in the garage looking for pool supplies (yes, we opened it up today and yes, Mike jumped in and yes, it's was frigid and better him then me *wink*).
Anyway, in the box was the little black proof folder stamped "Class of 82"-Elena proclaimed "You look so pretty in these picture and so much younger!"-shocker there.
I hadn't realized it was 25 years until, at work, someone called for a will and it was an old classmate from high school (yes, we're at that age where we think about wills and such)-then another one came in for a deed and then my boss reminded me "Deneen, it has been 25 years for us all"-knock me over with a feather.
So here are the then and now pics. Elena took the now pics and remember, I spend half the day at the 4-H center and the other half in a dirty garage and cleaning the pool stuff-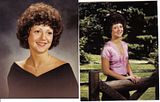 Oh how I wish for the airbrushing here!
And just because Elena took so many:
My mood right about now is just what the pic shows~
(They're all clickable-I just prefer you don't click any of the "now" shots :P)