Not much to report-I am halfway finished
this
tank top. I joined in on the April/May CAL at
Fiber Freaks
for summer tops, but am awaiting scads of yarn to be delivered.
I want to make a Short N Sweet next, then one of
Donna's patterns
, the Adina Bolero, which is sold on her sidebar. Her patterns are so easy, yet look so darn terrific. I ordered some fine rayon boucle from Ebay for that. Yes, my resolve to stop buying yarn kinda hit a bump-I ordered some spun rayon, rayon boucle from eBay and a pound of MCY hand dyed rayon from Etsy in the past week, but I swear, I am done. I needed some Spring/Summer weight yarn to make the bolero's and tanks I want to make for this summer for ME! I plan to do the
"Sweet"
in a tank also. So I
needed
the lighter yarn.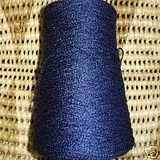 Rayon Boucle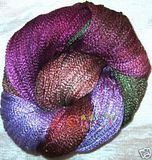 MCY in Gardenia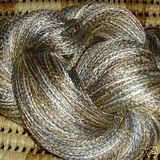 Spun Rayon in London Mist

Now, if only the yarn would come in (LOL). The Knit Picks is on it's way-should be here on Friday. The WEBS, don't know, they don't send tracking, the London Mist was shipped on Monday, the Rayon boucle (blue) was shipped yesterday, the MCY-who knows-that took a while last time and there are mixed feedback on shipping times-no rush for it, but sometimes it's nice to get your hands on it, even if you aren't using it immediately.
Gotta run, today is my writing program volunteer thing at the school and I have lots of housework and Elena has Brownies tonight-another crazy day.