It seems, Wednesday is now my picture heavy post day-this Wednesday is no different.
As for WIP's-started the Doris Chan Allegheny Moon Shawl and frogged for no other reason then I started it and the Ritratto, while gorgeous, can be a bugger to use and the dark color was killing my eyes when I started it. The eyestrain alone was enough for me to decide to start this in natural light and when I am not feeling like it's time for bed. I will do it, just waiting for the right time. I hate having WIP's lying around, so I wasn't too far and it didn't kill me to frog it. Ritratto is a PITA to frog-lesson learned and I'm moving on.
I finished Elena's Adina on Sunday night. She didn't wear it today because it's warmer then anticipated and she decided she wanted "pink" today. She did, however, model it for me last night. That isn't what she will wear it with, but at least you get an idea of the fit of it. I used probably about 2 balls of the Knit Picks Merino Style and an I hook-pattern is so easily adjusted for size, it isn't funny and I didn't even need to read the pattern while making this one. I think I'll make another in a few weeks using some hand painted boucle from MCY-now that I know the yardage I'll need for my size and what I have. I have 600 yarns upstairs and some new came in for another project-more on that later.
When Elena feels like modeling, I guess she really feels like it.
Next up, the last of my yarn buying for a while. I must, seriously must, use what I have-make due. I am running out of room and have to really go through some and figure out what to do with single and double skeins of leftovers. Knitting should help with that.
First up,
The Ultimate Crocheted Socks
pattern at Crochet Me! inspired me to try another pair of crocheted socks. I loved the yarn Dorothy used for it and scouted Ebay and found the same yarn, different colorway-totally reasonable too-so this is it: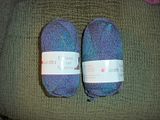 Then, the
MCY
Gardenia finally came in. Their turnaround time is a bit slow-I ordered it the 10th and it didn't ship til the 21st-they closed their etsy shop and are selling on their website, as well as
ebay
now-but I think this will be all I get for the time being, I really have tos top buying yarn and my budget is screaming at me from the past month. It's cheaper on eBay, even the BIN is, but quantities may be limited. It's gorgeous, in person it's beautiful. I did read somewhere someone posted some of the yarn has some dye running issues, so I will make something with this (don't know what yet, but it's a full pound and 1,200 yards-so could be anything)and then try and set the dye-or should I do it before making something. Any ideas on the dye setting other than vinegar? I have the Eucalan and I plan to soak it in that. Anyway, they use natural and chemical dyes and whatever they rinse it in afterwards smells so darn good, the yarn just screams YUM! (not to sound too Rachel Rayish here).
Here that yarn is: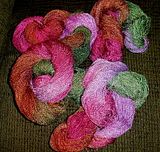 It's a Rayon Boucle, sport weight and the colorway is Gardenia and the picture doesn't do it justice, I swear it's wicked beautiful.
Well, I really plan to hit the Seafoam vest today. If I like it on, I will probably make one in Cotton Plus too (from my stash mind you).
My knitting DVD came in yesterday too (yes, lots of happy mail yesterday), but I didn't look at it. I plan to start just swatching with needles in the next few days with some acrylic (again, in my stash)and go from there.
And
Mathgirl
, once I show my pathetic swatch, I am expecting
Julbea
to get a whoop right upside the head-seriously-you are the one I need to deliver it too!
Today is my volunteer day-so doing my laundry, cleaning a bit are all in line for today. Elena has Brownies tonight, so hectic all day it seems. BTW, the vest did show up-wasn't one of the original ones left behind, so someone must have noticed and swapped it out, but lo and behold it was there-thank goodness because between the vest, badges, pins, etc the replacement would have been about $40 I didn't want to have to put out. Yes, her name is written inside of it now, in marker mind you.
Oh, I wanted to mention the Aloe Vera Juice, two thumbs up. No meds now for 4 days (the longest off of stomach meds in a year) and I feel very, very good and it hasn't even been two weeks since I started it-I can't tell you how absolutely thrilled I am!