I blame it on
Marvie
. After feeling guilty for doing nothing outside besides some basic clean up, we did some planting today.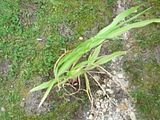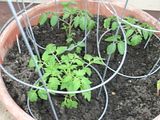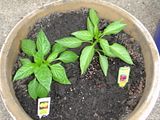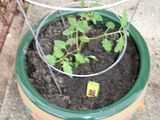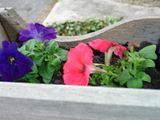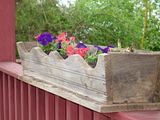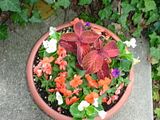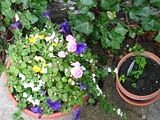 My "porch boxes", some container flowers, plants, veggies and one lone parsley plant. We also put in three rhodo's on the side of the house, but the rain stopped me from taking pics. I've done the container gardening for the tomatoes every year and added bell peppers this year. We did jalapeno's before. We usually do cherry and Roma tomatoes and somehow a hybrid got into the mix this year. Next year, I hope to use some of our open acre and have a real garden, but we didn't have time to fence it in this year. We have deer walking across the property, as well as other critters who would eat the veggies-
Can you guess what the first picture is?
Seconds after I took the last picture it started pouring, but then ended about 2 minutes later. I knew we were due for some rain tonight, so I figured I better get the stuff planted now-rain will be good for it.
I also decided to try the recipe
Stacy
posted Friday for a burrito bake. She mentioned using tortillas in place of crescent rolls and only as I was putting it together did I realize she meant actual tortillas and not tortilla chips. Oh well, it cooking now and Elena and Mike will love it.
Crochet wise, I am to the right shoulder of the Seafoam vest, just had more to do then I had time for this weekend. I didn't even pick up the knitting needles yet, again, not enough time.