The Shoop-Shoop Capelet from Doris Chan's
"Amazing Lace Crochet".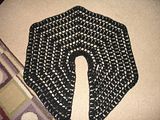 Still needs to be kinda lightly blocked (I know acrylic doesn't "block", but I want to wash this and then lay it flat to dry and pin the ends down and see how it goes). The yarn suggested was TLC Cotton Plus in a variegated color, but I used the plain black to wear with the outfit I am wearing in my avatar pic here on the blog. The amount of yarn suggested is 4 skeins, but I made the large and it took not quite 2 skeins. The variegated has less yardage then the solid, but not that much less-in any event 2 skeins of the CP and I went up to a J hook to get gauge. Finished measurements were spot on. Nice pattern, no errors, easy to memorize. I'll block it next week and try to get pics of me wearing it. And that weird spot on it, stitch marker marking RS.