I've been buying stuff from eBay, DeStash and Etsy lately. I have some Knit Picks yarn I want to get and something (maybe) from Webs and I am done yarn shopping for a while (okay, maybe some Sugar N Cream once in a while)-enough is enough and I am truly out of room. I also noticed I buy a lot of wool compared to other yarn-so the stuff I plan to buy is summer weight yarn-but still, I am really done (unless it's a great deal).

Long Staple wool-hand painted, from eBay-400 yards-a bag, of course, felted. This stuff is gorgeous in person and I wish she would list more. (see, must stop the buying)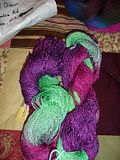 Rayon/cotton hand dyed boucle from Mystical Creation Yarns on Etsy and eBay (but this is from Etsy). Long time for shipping was my only complaint. Each skein is supposed to be 300 yards, but it "feels" like less-they have good feedback, but I will have to check the yardage on my niddy noddy before starting anything. 2 skeins of this, maybe a shawl or lightweight moebius.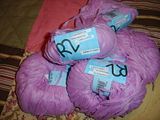 R2-Rowan Paper Tape yarn-100% nylon-eBay-stuff was a decent price and I plan to make this with it for myself. I've made this for Elena with Ticker Tape and it's cute. With the leftovers, I plan to make a bag using this yarn and some Cotton Ease and a bamboo handle for summer.




Lastly, from DeStash, Knit Picks Merino Style yarn. I had a few skeins in another color and this works up so nicely-something for Elena for the fall/winter.




Today is one of those crazy "clean up the house" days. I plan to go through all the old videos (and we have tons) of Elena's and even some DVD's to make room for DVD's she does watch. I'll probably list the videos on eBay in big lots. I just need to get organized, but since Elena is home, she can tell me which tapes she will no longer watch so I can't be accused of "getting rid of something she liked". I also have to clean the dining room, bathroom and living room for Easter. We don't do much, but Elena is into the whole "Easter Bunny" thing, so we do the basket, egg hunt (yes, it's usually at 7:00 AM and cold-like this Sunday is supposed to be). We'll be dyeing eggs tomorrow, as part of our "routine", although Elena wouldn't eat an egg unless it was pure chocolate (can you believe, at age 7, she has never tried an egg and refuses to no matter how it's prepared). I assume I am cooking, since no one else mentioned anything-hence the cleaning up of the dining room. I am making crab cakes-again, non traditional, but kind of special. I swore I posted the recipe on my blog (I swear I did), but can't find it on a search, so it'll be my Foodie Friday recipe for tomorrow.
Ah, my mom just called, she's headed over for lunch and has Elena's Easter basket/presents and can't wait til Sunday-
Oh and Elena has a major loose tooth (the kind that is hanging by a thread) and because she's like me with this stuff, sat for three hours yesterday with her finger on it, not moving. She's better today, but it gives me the willies something awful and I wish it would just fall out. She's lost about 7 teeth so far and it's nothing new, but still......ewwwww