A ray of sunshine came today and got me over the "bad day" blues.
First off, I won a blog contest at
Megan's
last week and my package arrived today and what an awesome package it was-I can't tell you how excited I was by it, but I will try.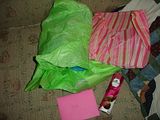 Here is what I saw when I emptied the box
Then I unwrapped and voila: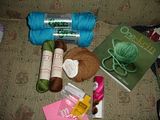 Awesome or what? Three skeins of Cotton Fleece in Caribbean Blue-I may just make another Short N Sweet for me!
Also, three skeins of Knit Picks Andean Silk, which since I can't wear alpaca, I will make myself a gorgeous felted bag with it-I read it felts, even though it has silk in it.
Also, some delicious chocolate, which is half gone and a cool sample of
Soak
, which I have been reading a ton about online, never saw it as of yet, but now get to try it!
She also sent me, it's on my wishlist and I was surprised cause she said it was just yarn-the
One Skein
book! I am so excited because I plan to start knitting soon and this is perfect for me. I was just lamenting on
Fiber Freaks
about how I had a skein or two of stuff I didn't know what to do with, well, now I do!
Thanks Megan=it was a terrific surprise and made my day!
Also a package came for me-yarn from
The Sanguine Gryphon
-I found her when I was in the Sip N Swap swap that Fiber Femmes had. She wasn't my swap partner or anything, but I checked out her site, which led to her
Etsy
shop and bam-saw yarn I had to have. Unfortunately, I waited too long to buy it and it was sold out, but lucky for me I emailed her with a special order and she was able to dye it for me. This yarn is awesome. It's called Dance and is handpainted silk yarn. I love the colors, perfect for me and I plan to make myself a slightly more drape-y Adina with it. It's a sport weight yarn and just beautiful! 100% silk noil and perfect for a summer top. I can't wait to get started using it. (Ahem, I bought this before I said no more yarn-so it doesn't count-well I ordered the color anyway and then I had to buy it, right?)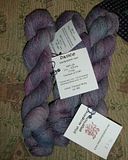 Now, I need someone's help here.
Marvie
, I think you just did this, so I am asking you, but anyone who has a clue is more then welcome to just shove me in the right direction. I bought a
domain name
today through Go Daddy today. Now, I know I can still use blogger as my blog account, but how do I transfer it so you can now type in my domain name and get to the blog addy? I looked on the Dashboard and it had instructions on how to do a new CName and I followed the directions, however, it felt incorrect. It takes 48 hours once you do that, so if I have to change it again, it's not a problem. I think I put the incorrect host name, I did the one blogger said to do, but again, it feels "wrong". Yes, I emailed GoDaddy to ask for support, but just a little shove or an okay would make me feel better. ETA: I contacted Go Daddy and was told just to forward it-they couldn't advise me on how to change it so that http://yarnsandmusings.com was the addy that showed, so for now I forwarded it. Weirdly, and I don't know why, if you type in http://yarnsandmusings.com-it comes right here, but if you type in www.yarnsandmusings.com-it comes up a server 440 error-hmmmmm, I just don't know enough about this stuff.