We had a good weekend, got a lot of outside stuff done-no planting of anything, lots of clean up, especially from the latest storms. The pool cover is pumped off, wet vac'd and ready for removal next weekend. I forgot to order the chemicals last night-Doh!
Elena had her sleepover here on Friday night and complained Saturday that "not much sleeping was done and she was tired"-I tried to explain that although it's called a sleepover, you don't sleep much, etc. She still didn't get it, but is eager for another one. A week from Friday she has her school trip, an all day affair of a Junie B Jones play and then to a county park afterwards. It's a long bus ride for them to the play and then back to the park and back to school and I expect her to be tired, but that night, at 5:00 PM, we had a banquet to go to for my mom and 20 years at work. Elena should be super crabby by then-but there's more, she has Girl Scout Camp the entire next day and overnight-I expect one very tired and nasty ass little girl on Sunday.
I did get some crocheting done Friday night into Saturday.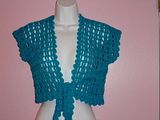 Pattern:
Adina Bolero
(scroll down, she sells the pattern on her website)
Super easy. I was the pattern tester for this two years ago.
Yarn:
Knit Picks Merino Style
, Frost, 123 yds per skein-about 3 1/2 skeins for mine and maybe 2 1/4 for Elena's.
Modifications: None. Although Donna's original pattern calls for a sportsweight boucle, it seemed to thin to me for this. I've made this in Microspun also. I used the I hook and the yarn was a DK weight. I think if you used a finer boucle, it would be drapier like the one shown on Donna's blog.
Elena saw it completed and begged me for one, same yarn and all. I tried to sway her to Microspun (since it's not a light wool), but she would have none of that-needed to be the same color, same yarn, etc. I started with 7 skeins and was unsure what I would do with the leftovers, so I was happy to be able to use them. I really liked working with this yarn, no splits or anything.
This pattern is easily adaptable to any size, just change the starting chain and/or hook size. I've made several adult ones and kid sized ones-Elena's size changed from last year and it was super easy to adapt the entire thing.
I was able to complete mine in less than a day and Elena's is already done, except for the trim. I don't know how much time I actually spent on it, but it was here and there between outside stuff, inside stuff, etc. This is also made in one piece and just seamed up the sides-terrific pattern.
Well Aunt Flo still hasn't made her appearance-I am hoping for menopause, but freaking out still the same. I don't know my family history for this because everyone one on my mom's side had a hysterectomy long before they were my age and my dad was adopted and no FH is available. I have a follow up with my primary, so I'll ask him about it (while he screams at me about my stupidity I am sure). BTW, two days without any stomach meds and the Aloe Vera Juice has helped the pain a lot. Today is actually the second day, so time will tell as it goes on. Usually I am good for one day without it and then BAM, hits me all at once. Gotta run, laundry is awaiting.