Dang, I'm all confused about working yesterday and thought it was Wednesday and was excited about "WIP Wednesday", but since it's not:
Here's an FO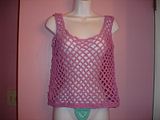 I used Rowan R2 Paper Yarn (100% nylon)not quite 2 balls and a J hook-spot on gauge-however, I wish I had made this a teensy bit longer-I even added an extra edging row at the bottom. I haven't washed it yet, maybe it'll relax a bit. It's
this pattern
in a size Medium.
**Please note-to answer Amanda's question, the mannequin is wearing a thong I crocheted her out of #3 thread. She lives on the back of the bathroom door (we have two doors into the bathroom) and Mike hangs his robe on her usually. Since she models for me a lot, I figured she needed something to cover her cooch.
Next up, I left right from the bus stop this AM to hit Michaels and Old Navy. Unfortunately, they don't open til 9:00 AM (can you tell I am so not a shopper) and so I went to Target. Some facewash, two t-shirts, Swiffer Wet cloths and an
INTERWEAVE CROCHET
(who would have thought at Target?)later, I hit Michaels. I found the new Cotton Ease, bought 4 skeins of stone for the Seafoam Vest by Chloe Nightingale (which technically wouldn't make it a Seafoam vest, but you see what I am saying here), 4 skeins of Sugar N Cream in some brights cause it was on sale and who can resist? and the latest Crochet Today! which I haven't even gone through yet.
Now, technically I should have been done right? I mean I found the magazines, had nothing left to search for, but yesterday I had forgotten something I needed to pick up while I was at work and since it was only about 5 minutes from the shopping center, I headed over. But what is this, I am passing Joann-I happen to have a 50% off coupon and well, I will just pop in for a sec. New color of the Boucle-light blue and brown-very pretty (that plum is no longer anywhere is it?)-I grabbed that and left.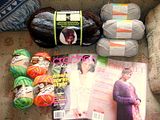 Sometimes retail therapy does wonders, even when it's miserable out.
Still working on the Short N Sweet-more tomorrow.