Some FO's with actual modeling pics. I didn't have a chance to "do my face" yet, but had to take advantage of my husband being around a little this AM to take pics-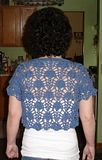 From SnB Happy Hooker, the Short N Sweet Bolero-size Medium. than called for and I Three skeins of Reynolds Saucy Mercerized Cotton in color Denim (w/2 to 3 yards leftover-talk about sweating it) and H hook-gauge was dead on. I plan to make another one, but maybe instead of the relief stitches, just doing double crochets for the fp and bp part-for a lighter jacket and little different look.
Next Up, The Shoop-Shoop Capelet from Amazing Crochet Lace (Doris Chan) modeled. I don't plan to wear it with a white cami, but for photo shots, I wore the white cami.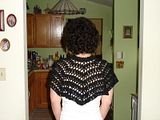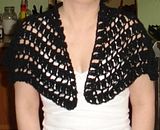 Lastly, the tank from NY Yarns-as I said, I wish it were longer and may or may not wear it.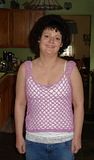 All for today, I have pain management in 15 minutes, gotta run.....