This is going to be a long, picture heavy post, so be prepared.
First up, the world's ugliest slippers: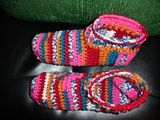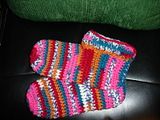 I
had
to use up those skeins of Red Heart Strata, so here they are. Meant to be worn over socks around the house-yes they are huge, no they don't fit me, but they will fit my mother. The Strata isn't real soft, has that weird dye smell I hate (yes, sensitive snout here) and worked up a hideous colorway (according to Elena who proclaimed then "so ugly, she wouldn't even consider wearing them"). The slipper pattern is
here
.
I plan to make myself up a pair using the leftover Strata and some blue RHSS leftover-yes, at least I know I can find them in the dark.
My yarn for the granny blanket shipped Monday afternoon Priority Mail-so I should have it today or tomorrow-yay! I ordered from
Lyle Fabrics
and if the yarn does come in today, it's a two day turnaround-impressive. I also ordered from Mystical Creations Yarn on Etsy last week, but from their feedback on both eBay and Etsy, their shipping is slow (like 2 week turnaround)-but I wasn't in a rush and I ordered some hand dyed rayon boucle to make a Sweet Pea Shawl in obnoxious colors for Spring.
I have been making dishcloths like mad lately and ordered a few booklets with patterns. I did find the 99 pattern book upstairs. I'm not posting pics because I will be in the Fiber Freaks swap and I don't want my unknown partner knowing what I have made yet. After the swap, I'll take pics-very exciting, I know.
To other news, it's snowing today. Yes, really snow and, although I thought it would be "too cold for snow"-apparently it's not. It's freaking frigid and snowing. A clipper from, now get this, Alaska! This means it's coming from below us, which is rare. I think accumulations are predicted at 3-4"-which is the most we've gotten all winter. It's the dry fluffy stuff, so cleaning it is easy. Unfortunately, I have to be at the school at 10:30 for the writing program, have a hair appointment scheduled at 1:00 and have other errands to run.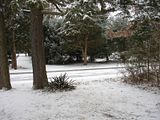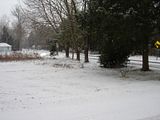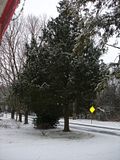 I got up early this AM, threw some of the neverending laundry in the washer and started a pot of homemade chicken soup-the stock is cooking down now. The stock should be done before I head to the school-I can let it cool and take the chicken out to cool and then throw the soup together this afternoon.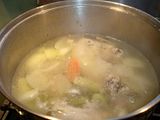 I also made a new dish last night for dinner, so I actually may have a "Foodie Friday" recipe to share this week.
Onto other news, I received a wonderful RAOK package yesterday from
_____
. 14 skeins of a mohair and acrylic blend yarn (Ormo Paris-can't find the yardage anywhere), but these will make awesome items for Elena. She also included some Anchor Pearl Cotton (beautiful-unavailable here in the 50 gr skeins), some headbands for Elena, a keychain, notepad and pen, as well as some beading items-Thank you so much.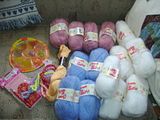 Oddly, I also received a letter from the Chicago Dept of Corrections. You may recall, in 2005, I
posted about an eBay purchase gone bad
-scroll down, it's near the end. If you don't want to read it, long story short is I bought something, paid by money order, didn't receive it and it also happened to a bunch of people. It was a cheap purchase, but the post office contacted me and asked me to fill out some form about not receiving the item (no Paypal protection here) and I did. Okay, I got the letter saying the person was sent to prison for fraud, blah-blah. Occasionally I would get correspondence updating me. Honestly, had I known, I would have ignored the post office thing. Anyway, yesterday I got a letter saying the guy was released for good behavior and was living in the Salvation Army in Chicago. Ugh-better not to know because now it kinda freaks me out a bit, the whole knowing and does he know me thing.
Is anyone else having Blogger issues with posting pics? I upload to Photobucket, get the HTML, but the the paste doesn't work right, it highlights the whole entry and I have to play with it umpteen times to get it right-been happening for days now.