Same
pattern
as yesterday, I just stopped at round 15 for the foot part-somehow, I flip the slipper right side out as I am crocheting and end up doing a bpdc instead of a fpsc too.
Leftover Strata yarn and some RHSS I had-I figured out the variegated RHSS is the one that feels so stiff and has a funky dye smell-must be the process.
I plan to make another pair (yes, I like making them) using some Peace Fleece wool/mohair mix.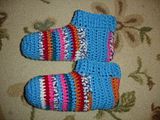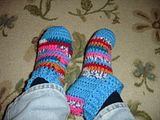 Oh, Elena found her mittens (after I dug out some merino anyway-maybe I'll make anothe rpair now that Spring is approaching-par for the course for me!)