I finished Elena's hat this AM-I don't know if it fits her or not, but it's done. She has a lavender, purple and white winter coat this year and I am trying to make her hats she likes to wear-which is tough.
Anyway, this AM, she grabbed my
rolled brim hat
, plopped it on, pronounced it was "fab" and off she went. Very ala Annie Hall (and if you need me to explain, never mind-I am getting old). And no, it didn't match her coat.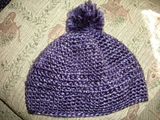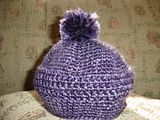 Another winged hat-started with a J hook and sc, went around, switched to hdc, went down a hook size for a few rounds, back to sc, another hook size down and kept going. I used
this
yarn, it's kind of unspun yarn and was nice to work with. It was a 3 ounce skein, about 130 yards and a little was left over. It did make an interesting pom-pom for the top though-I'm not sure Elena will like this, but after making the tassels the other day, the hat was asking for something else and I did buy the
Plaid Doodle Loom
(scroll down, it's past the Knit Wit)for making pom-poms a while ago and of course, never looked at it, so I thought I would take it out and give it a whirl. It works great, but again, I am not sure if this yarn is pom-pom material. It'll be fine, as long as I don't wash it I suspect.
Elena didn't wear the poncho today, although she planned to-she decided she wanted the neckline less wide, so after she left, I did a few more rounds of sc with decreases around the neckline-it looks nice, still not around her neck and should be fine (or up to Elena's specs).