I finished this up today: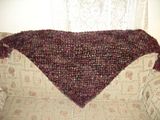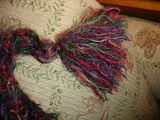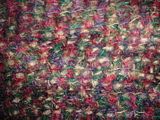 All pics are clickable

Pattern:
Easiest Shawl Ever
Yarn: 2 1/2 balls of comparable to King Cole mohair yar (90% mohair & 10% nylon). I used more than the pattern because I decided to do a sc edging around the entire shawl to give it a more finished look. I made mine the same size, but really did need to use about another 100 yards or so of the second ball. I even did the tassels.
Hook: Q hook, P hook for sc edging.
This is a gift for my mother, who doesn't prefer the wide, long shawls for wearing to work. It's nice, lightweight and warm.