Want to see a fab pattern?
Look
here
!
Mimi has designed, for Coats of Manila Bay, a fabulous sack bag pattern. She used triple strands of size 8 cotton thread (which she also sells and it's beautiful), but I plan on making it using Sinfonia or another sportsweight cotton I have (and think it would be fantastic in Tahki cotton).
The pattern took 7 days to get here (from across the world, mind you, which is faster then companies I order from here in my same state). It's wonderful. Two full color sheets of pictures of it, front and back-full sheet pattern and a full sheet schematic drawing. The paper is the nice high gloss. I can't say enough about it and how nice the pattern itself is.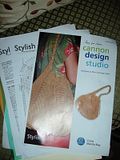 (sorry about the glare, it's the high gloss paper and bad lighting)
She has several others for
sale
-go peek, spend money, you know.
I have made her Matrix bag and loved how it turned out.
Mimi also enclosed a gift for Elena-the most adorable drawstring bag, beaded drawstring made with the Cannon Crochet thread. Elena loved it-perfect color choice.
Thanks Mimi!