After a long day, I came home to a package from England! What a surprise-My Magic Yarn Ball swap package from the swap Fiber Freaks was hosting.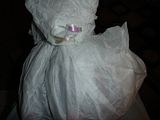 First, there was this-all wrapped in tissue and a nice note, as well as two delicious chocolate bars that didn't survive this post.
Then: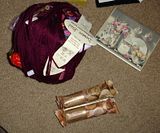 Elena was so darn excited about this unwinding of the yarn ball.
Which lead to this: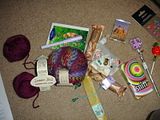 In the very center was: A different yarn ball!
There were two skeins of Debbie Bliss Cashmerino in burgundy, a ball of 100% wool (Freedom Spirit from Twilley's of Stamford-gorgeous colorway!), two candy bars, a lollipop, some fairy dust for your face, stickers, pencil with eraser, notecards, pen, Karen's handmade stitch markers, beaded bookmark, magnet of Oxford, England, tissue pocket pack-it was a blast!
Thank you so much
Karen
! Terrific swap!
Close up of yarn: