Bron posted this pattern last night and I just so happen to have an orphan skein of Patons SWS in Natural Pink and was thrilled to make it! What a fast project! It only really takes about an hour, but I did half last night and finished it up this AM. Lucky for me, I buy these button assortment bags at AC Moore sometimes (you get a gazillion, different sizes-shank ones mostly in this selection, which is what I prefer) so I always (well not always, but mostly) have a button available when I need one just for this sort of thing. This button worked out perfectly too!
Stats:
Bron's Brain Band
Yarn: Patons SWS in Natural Pink-about 80% of a skein
Hook: Brittany Birch I (5.5 mm)
1" button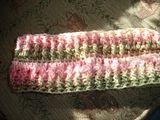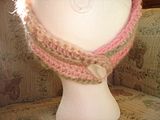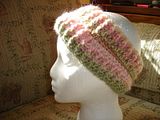 All clickable

Yes, I tried for natural light and um, that didn't work out great, but then the camera battery died. I guess I could have centered it a bit more too.
Now looking at it, since this is done on both sides of the starting chain, I
could have
had the colors bleed out-rewinding and starting the other side of the chain with the same color and then it would look a bit different, more striped, pretty. But I didn't, next time I'll try that. Hmmmm.....need to pick up more SWS!
I'm giving this to Elena's teacher from Elena for Valentine's Day. She honestly appreciates the handmade items (and yes, I dropped off the shawl she bought as a gift yesterday) and she jumped up and down and clapped. She is really terrific and it's nice making things for someone who truly loves them.