Ah, not really, but I finished reading this (thanks
Pam
for letting me know about it):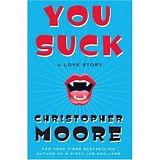 I love Christopher Moore and his books are so different from my usual fare. I've read several books since January 1, but this one stood out.
He continues his love story from
Bloodsucking Fiends
and I won't say more, but I liked it. Not his best work, but fun nonetheless. I couldn't write it, so who am I to judge? I still like some of his older stuff better:
The Lust Lizard of Melancholy Cove
,
Coyote Blue
,
Island of the Sequined Love Nun
and one of my faves
Fluke: Or, I Know Why the Winged Whale Sings
On a completely different note, I also finished reading,
A Girl Named Zippy: Growing Up Small in Mooreland Indiana
, which was cute in that she's the same age as I am and a lot of those memories, I could relate to. I just picked up today,
She Got Up Off the Couch: And Other Heroic Acts from Mooreland, Indiana.
This picks up where the end of Zippy left off.
As you guessed, not much crocheting going on-halfway through the shawl, but since it starts in the center back, half way through the rounds, but in reality eally only about 1/3 of the way through. Nothing else, nothing. No craftiness lately, but I'll get the groove back, just taking a little time right now. Reading, working, whining about the cold, that's it.