I found the Family Circle Easy Crochet Spring Edition today in Michaels. Yes, I hit every craft store and bookstore and Michael's was the last one and it was there-figures.
Anyway, I already know what I am making: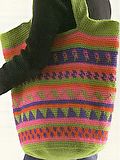 No, I've never done Fair Isle "Crochet", but I'm going to try it. I will make it in the Patons Merino (as suggested) and in the same colors as not to confuse myself too much. All sc, so it should take a while and yes, wrist is still bothering me. I have to pick up the yarn, but will get it next week at AC Moore since they have every color of Patons Wool there (until I need it, right?) and I still have $100 gift card left.
I may make this also: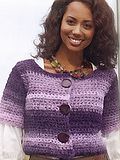 using the awesome wool blend I received a few weeks ago as a RAOK (it's the earthtones in the lower left side of the pic). However, I don't know if it'll be enough-the yarn is from Italy and there isn't any yardage listed, so I'll have to get the kniddy knoddy out and give it a whirl.
To answer a question about knitting, no
Lucy
, I haven't tried it, but I decided this AM to definitely start learning it. I did finally pick up a set of the
Knifty Knitter's
just because I wanted them (round and a long loom) and then figured I would learn to knit once and for all no matter what. So, I ordered a few library books (that aren't in yet), bought the
Knitting Answer Book
, picked up the
SnB Knitting book
, bought
Mason-Dixon Knitting,
have a book
Wendy
sent me ages ago and am ready to go.
My virus thingy is almost gone too-slightly stuffy, but all in all okay-thanks for all the well wishes!