Every year, at the end of winter, I wash and then pack away all the hats/scarves/gloves in one of those zipper bags sheets come in. I put them in the spare room closet til the next season. Anyway, this year, while rooting through the closet, I came upon a plastic shopping bag on the bottom. In it was a scarf, knit cabled hat and matching mittens-all done in lavender. What makes this so amazing? My mother in law, who has been gone for over three years now made them. I remembered when she gave me the bag, right before she got sick. They were child's sized. I asked who they were for and she told me she knit up sets every year even though the grandchildren were all almost grown (except Elena). Elena was still a toddler then and I put them in the closet. Well, she outgrew her mittens last year and sure enough, the set fit her perfectly (okay, the scarf was mondo big), but the hat and mittens were perfect. What adds to the amazingness of the story is that Elena's winter coat this year is different shades of purple and the hat and mittens go perfectly. Elena generally eschews any of the handmade hats, but this one she looked at, tried on and declared it "darling" and wore it. This is one of those stories that makes me wonder about how the universe works. I know it's not a mind blowing story, but it's one that makes me all sniffly when I see her wearing it.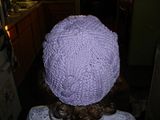 And shopping yesterday was okay. I hate shopping and tried on, no lie, about 20 pairs of jeans. Anyway, I found they all have stretch in them now and I ended up getting the ones that felt best (stretch jeans make me so cold sometimes and itchy). Levis 518's Juniors Bootcut-supposedly ultra low rise, but they were fine. I am now wearing, ya ready, size 9 S in these! I also picked up a pair of SO jeans in size 8P! I've been ordering some jeans off of eBay and think I bought a size too big, but sometimes, if washed in really hot water, they shrink-so here's hoping. Elena took these of me today because I guess she's amazed that my pants fit now without a belt and aren't showing crackers everytime I bend over. Head cut off cause it's early in the AM and my face isn't on yet.
Off to work with me....