Thanks for all your responses to my yarn question. To appease the masses, I have decided to go with TLC Cotton Plus-I had enough in Black, Salsa and ordered some deep tan today from Joann (free shipping ends today). Even if I decide to go up a size, I'll have enough. I only had to order three skeins, so it's still a cheap project (I never count the stuff I have on hand as costing anything cause it's just sitting there).
Anyway, to answer pattern questions. This is a pattern in the Better Homes and Gardens Simply Creative Crochet winter edition-just came out in the past month and should be out a few months. I picked it up, at all places, in my local drugstore. It has several cute sweater patterns, but the Doris Chan was the clincher for me. Rarely, if ever, do I make anything from a magazine pattern, although I buy them and whine about "how there is nothing to make" in most of them-the sweater kept calling me, a lot-to the point I sat down with a calculator, figured out yarn substitutions, etc. And Wendy, it uses an I hook.
Also, a pic of the shawl WIP for my mom: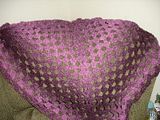 A pic of the Patons yarn I picked up in Bermuda to make a shrug for Elena-remember she's going to be 7 and loves bright colors:
While shopping at Joann, I also picked up a skein of the yarn for my Aunt's hat:
Patons Decor
-75% acrylic and 25% wool-it was the suggested yarn-it takes one skein and I chose Rich Aubergine as my color choice.
Well, I still haven't found that damn 2 1/2 lb cone of wool-baffles me and I spent a day ripping a room apart, searching upstairs and every weird place I could think of and nothing. It'll show up.
Busy day today-Kids Writing Program, errands, laundry, cleaning and Brownies tonight. I want to finish the shawl today too.