This isn't a blog contest and no, I don't know exactly what it is-I am asking for your help identifying the item. I went to the "real" thrift shop-tons of yarn-all unmarked and I didn't know what it was, although some felt like wool-it was all old and I don't need more half skeins of stuff lying around-no I didn't attempt a burn test there, but I thought about it. I did find a few things including this"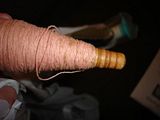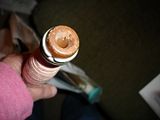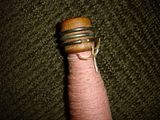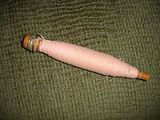 It was in a locked glass case-it was interesting and I bought it. Is it used as a weaving shuttle? Is it a Nostepinne (ball winder)? It's about 6-8" long and wood with the metal stuff there at the top. The thread on it if very fine. Any ideas? if you have links or clues or anything and would prefer to email me, please, please do: Yarnsandmusings (at) gmail.com.
I also picked up some Aero Knitting Needles in size 6-no I don't knot, but dammit when I do, I will be ready. These feel like they are teflon coated. I also found a Jiffy needle-#50 for broomstick lace (after I bought a set in Bermuda, of course), but now, if I ever learn to knit-I'll have a set of the #50 and can use this #50 for the broomstick lace (which is crocheted around the needle for those who didn't know).
I also found this freakish thing "The Grant One Needle Looper"-makes knitted garments faster! Easier! Complete with the pattern booklet for 14 classic patterns. Copyright is 1970. It's like a big needle eye with a rubber ring and yarn guide, you make a slip knot, push the needle through and it makes a loop, you hold the loop and push the needle through and keep going. Kinda weird thing, but I thought it was interesting.