I
finally
finished the mama pumpkin so the family is complete (sorry, she's divorced from the dad). Anyway, same pattern as before, only chained enough to make a rectangle which measures 10" wide (which is the part from top to bottom when you put it together) and 14" high (unstretched mind you).
Finished measurements are, including the stem-8" tall and 23" around for the mama.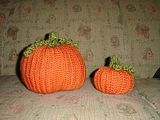 Clickable
Elena's Halloween party at school was a raging success. Last year, lack of parental participation was high all year, but this year-out of 16 kids, 11 mothers showed up. The amounts of stuff they brought home amounted to two 9 x 12" bags, not including the cupcakes, juice, pretzels, candy, popcorn and caramel apples they had in the class. What a difference from last years party-
Anyway, I am tired, it was hectic, crazy and fun. I took pics, but it has a bunch of the kids in it and I doubt their parents would appreciate the postings.
It's cold and high wind gusts are being called for tonight and tomorrow, torrential rain and high winds and there are already warning of wires coming down, trees coming down and power outages in our county. Given that my power goes out when there are no warnings, normal winds, it does not look happy for us here. The warning is from 2:00 AM until 11:00 AM tomorrow, so if I am not on, you'll know why. I doubt Mike will be campaigning because of the weather, so maybe we'll get one of those family times a bit tomorrow. Sunday is a kids Halloween Festival at a local state park, so you know where I will be.
Have a great weekend!