Yep, this is what I accomplished the past three days (well, I started Wednesday night and didn't crochet at all yesterday, but finished it this AM)-One Little Pumpkin-but he's so darn cute!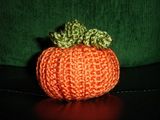 I keep singing the Ten Little Pumpkins song in my head now too.
Anyway, It's
Wendy's
Basic Pumpkin pattern, but (and there always is one), I did the stem differently, stuffed the little stem part and sewed it on.
I also have to admit-I like the Red Heart Soft Yarn-which I what I used for this project. It's soft and fuzzy-however, I don't know if I would make clothing for Elena from it because I have a feeling it'll pill a bit-I don't know, but heck it's super soft. Since I won't be washing my stuffed pumpkin, no fears there.
Anyway, H hook Red Heart Soft Yarn in Tangerine and Leaf-scant amount of the leaf. I can probably get 4 pumpkins or so from the one skein of Tangerine.
And no, I haven't lined the Fat Bottom yet or any of the bags yet-I am half tempted to not line the Fat Bottom done in the LB Suede-sigh, just not in the mood for it, but want to get it done (the bag itself)-crap, I hate these dilemmas.