I know, I already did enough posts today to last me at least a week, but when I get mail goodies in the mail, I wanna make sure the people who sent them know how much I appreciate them, so:
Andrea
-thank you-my prize for a blog contest she had-will be made into
these
tonight.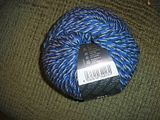 Stacey
-the mostest beautiful beaded doily ever. So delicate-you do rule with the #30 and steel hooks woman. It's in my curio cabinet one one of the glass shelves. Beautiful.
Elena even got a little surprise package today and exclaimed "Oh yum, sugar and candy-just what I love"-she loved the stickers and the homemade card with her name on it too.