My bookcover from
Jessica
-already on the Chamber of Secrets (I have to read Harry Potter on the sly or Elena bugs me to read it to her out loud, which is fine, but let's admit something-they are long books and sometimes I want to read to myself).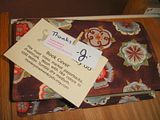 Clickable, as always
Cute little packaging too-note the mini clothespin
Jessica is selling book covers, cool hand painted baby onesies, soon to be coming cloth dog collars on Etsy. Her Store is set up-
Monkey Sew, Monkey Do.