Finally home, still feels like the house is moving.
The trip was great-but had some downsides (of course).
First off, day one-my brother pulls up 30 minutes early to take us to the Naval Base to the boat. It's a gary, rainy morning, we haul everything in the van and head out. My husband compliments me on how organized everything was. We get to the Naval Station about 45 minutes later and jump out of the van, grab the bags and go to get in line-I wave bye to my brother and then, suddenly, it hits me-dammit, I left my photo ID sitting on the damn chair in the living room. A panic ensues with me dumping out bags hoping, against all hope it's there-nope. I can't get through customs without it. I try calling my brother, but his voicemail. I panic-I cannot believe this-the one time we get a ride and I need to go back home. Someone finds a cab (apparently a rarity in that area) who was dropping off and Mike jumps in and heads home. Elena is mortified and I am freezing my butt off with a 6 1/2 year old panicked child. For security reasons, we have to sit outside on the sidewalk. BTW, our luggage is already on the ship, but we cannot get on the ship. I then realize, Mike doesn't have his cell phone, I do. Eeegads! I finally get a hold of my brother, who agrees to meet Mike at the house and bring him back-this is after he yells at me for about 10 minutes and when he starts calling me names, I hang up. Elena, ever the optimist, is saying "He's never gonna make it back, is he?" Finally, someone notices us standing outside and how wet we are and they argue with security and we are allowed seats at the entrance and given clean, but ratty sweatshirts. I swear people think we are homeless at this point and refuse to make eye contact. I am feeling a bit nauseous. Anyway, long story short, yep the ID was right on the chair, Mike got it and made it back so we were the last to board and just had time for Muster. No one was mad at anyone, just happy to be on our way. Taxi ride cost $90, but versus the price of the trip-it was nothing (according to my husband). You never saw such relieved passengers entering the boat as us. In all fairness, there was a couple who boarded right before us who forgot all their luggage. The only store open and near was a Super K-Mart, which they bought undies and who knows what else. They didn't look very happy.
We set sail! We spent the day in 80 degree weather by the pool and had a blast. We arrived in Bermuda with the threat of rain, but it never came. Gorgeous weather, we spent on day at Snorkel Bay and the Royal Naval Dockyard and a full day in St. George and then just hung out in Hamilton for half a day. The morning we set sail to head home, it was pouring. No, I didn't check the weather, but apparently should have. Nor'Easter we were hitting. Our room was at the very front of the boat. Never, ever again. The storm was horrible and we woke up at 7:00 AM (lots of up and down all night) to Elena seasick and apparently, once I stood up, so was I. We were told another 16 hours of rough seas with 15 foot swells. Apparently, half the boat or more was sick, they had to close off all outside decks-no one was allowed outside. 50 MPH winds and a lot of up and down and loud clanking. Elena and I spend the next 12 hours in bed. I did take her to the infirmary for a "pill your butt has to take" and Elena was finally comfortable. Nothing worked for me and I just laid there hoping the damn boat would stop rocking. We did walk downstairs to say goodbye to our dining attendant and give him his tip, but then someone hurled in front of Elena and we had to run back to the room-Elena had enough. We hit the river around midnight, which meant the waves stopped and we just kinda sat up in bed and breathed a sigh of relief, but still felt sick. No Mike didn't get sick, but he didn't feel great. Sadly, the sixth was his birthday and we had pool plans and everything else-I am sure seasickness wasn't what he had planned, but we'll have to make it up to him this week.
Anyway, it was cold and rainy when we got home, but you never saw a kid clamor to get off a boat like Elena. She didn't eat for 1 1/2 days and when we finally got home, made up for it. All of our equillibrium's are way off and sleeping makes it feel like the bed is moving. Hopefully in a day or so, that'll be gone. First time we ever hit such nasty weather and I did hear people saying they had sailed 18 times before, 12 times before, etc and never encountered that type of weather. I also heard about 100 people heard about the storm and flew home from Bermuda rather then taking the boat. Don't know if it's true, I wouldn't have done it because I didn't realize how bad it could be. We were sitting by a window on the 5th floor and a wave broke on the window-that freaked me out. Anyway, we loved Bermuda anyway and had a ball.
I did hit the original yarn shop "Betty's" and picked up the last two skeins of Aunt Lydia's Quick Crochet in Plum, a set of size 50 knitting needles (yes,
Kimberly
) and a set of purse handles. Betty's only carries RHSS, Sugan N Cream, and other common yarn found here in the US, just more pricey. I cannot find the colorway of ALQC, so I picked it up there. I also realized the funky smell of the yarn is not the yarn, but the moofy smell of an old, damp yarn shop. Six months of airing out will help-ewww, I know. I did find Needles, Etc. around the corner also (yes, one island and two shops within walking distance of each other). This shop only carries Paton's yarn (and I was told it was because the owner's daughter hates using RHSS)-Paton's found in the UK and I picked up two skeins of this cool variagated Fab yarn (all she had was two skeins of the colorway) and four skeins of this fuschia Paton's DK cotton-same there. They had pure wool yarn there, but at $25 a skein, unknown name, nope, I didn't get any. They had other Paton's, but it didn't call out to me. They also had a mohair blend, but I didn't like the color choices. It was a cute shop, not moofy and we chatted a long time. Apparently, they crochet and knit a lot in Bermuda and I did see it for sale at a street fair, as well as in the arts center. The price of the yarn is about 25-30% higher (or more) there due to importing it and generally the cost of living is very high. A lot visit the States and buy toiletries or hit the $2 stores there. I'm not going to get into the discussion we had about copyright laws cause it'll ruin the whole shopping thing for you and me both.
Anyway, that was all I bought in Bermuda and I don't think Elena or Mike bought a thing either. We did meet up with Mike's sister and BIL and did get to ride the crazy ass buses around the island, as well as take the ferry. We sang, we danced and we got sunburned-on a scale of 1-10, I give it an 8 (only because of the darn seasickness on the way home).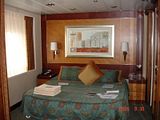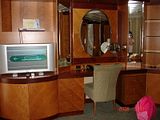 Our stateroom
Mind you, we got a suite for this trip. Most of the rooms are very small-but again, I will never be on the front of a ship again.

First Formal night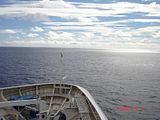 View from our room-smooth sailing here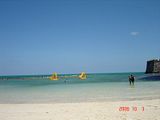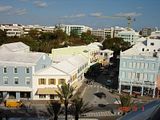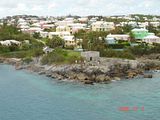 Snorkle Bay, Hamilton and St. George's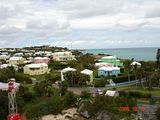 More of St. George's and Pirate Night/Scavenger Hunt on the ship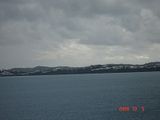 Heading into the storm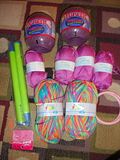 Fiber goodies (hard to believe that is $60 worth of stuff)