I finished the sweater up this afternoon and plan to make a little matching hat for the baby gift Mike needed.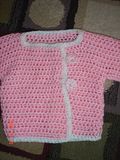 Pattern:
Baby It's Cold Outside
Modifications: In retrospect, I should have used the J hook for the body like I usually do, but somehow, I used a K hook.
I used Caron Simply Soft in Soft Pink for the body, trim done in two rounds of sc and using Lion Brand Baby Soft Yarn in Candy and using an I hook. I also did trim around the bottom of the sweater and around the sleeve cuffs. I also crocheted the buttons using a strand of each yarn and an H hook and just kind of made a thick little flower.
This will fit from 6-9 mos, maybe even to 12 months.
I also snapped a pic of Elena's ghan. The rectangles will be attached once it is completed. I hope this turns out and am beginning to have some doubts-but will figure out a way to make it work out. The edges are curling a bit, but hopefully once joined together and edged this will work it's way out.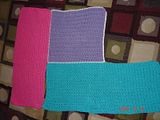 Physical therapy for tomorrow is cancelled. I need an out of cap referral and I cannot get a hold of my primary and honestly, it's a PITA all the way around. I think I'll wait til I see the neuro on Monday-he'll order another MRI, for sure, but he'll also do accupuncture/accupressure and maybe that's all I'll need.
It's almost 80 degrees here today and it's only supposed to get to 52 on Friday-weird weather.
I did nothing today except for damp mop the dining room floor, throw some sauce and meatballs in the crock pot and crochet-NICE!