Well, not much to report, but I did finish the pink part of the afghan for Elena-this will have a center squares, four overlapping rectangles around the outside (in different colors and then several rows of border done in other colors-should be bright and gaudy-what every little girl loves. So the center is done, as is one of the rectangles, yes it's slow going, but it should be done by Christmas with all the other WIM's I have planned.
I'm 3/4 packed for the trip also. I keep a running list because I am anal about such things and because there won't be a Target to run to if we forget anything. My husband laughs at the legal pad full of notes, but since he doesn't blame himself if he forgets something, I need the notes-the palest ink.....you know the rest.
Math Night last night was interesting, in that boring sort of way (yes, interesting and boring). I understand the concept and see how it could be a good thing, however, I wonder what will happen when a student transfers from a school that doesn't use the Everyday Math method or when a student moves from this district and goes to another district that doesn't use it-they could be left behind. Now we don't intend to leave this area, but sometimes stuff happens and you never know-this worries me. I intend to still do the "regular math" (although everyday math is regular math, but just taught with little bits of everything at once instead of 4 weeks of addition, 4 weeks of subtraction, etc)with addition and subtraction workbooks because Elena likes it so much, so why not run with it.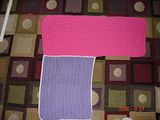 This is the blanket so far. If you can envision it, I plan to Start another rectangle at the edge of the pink part that overlapped going on the other side of the purple center square with that rectangle overlapping, etc. Then I will do some border around several times ending with a shell type border. I also plan to do (since I should have done it using a graph in the center, but didn't know if I would have had enough pink yarn-and would have, but oh well) a large crocheted heart in the center and then applique that on. I really overanalyzed this whole thing and still don't know if it's going to work out like I envisioned it, but I'm doing it anyway.