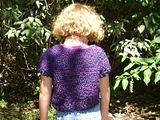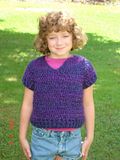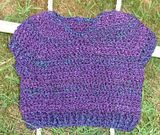 Since I have had several inquiries, I figured I would post how I made the sweater here. The version of
Amy's Sweet Sweater
I made fit a girls size 7/8 and measured 14" from the back of the neck to the hem.
Yarn used: Lion Brand Homespun in the colorway Renaissance- 1 1/4 skeins (8 ounces total, about 250 yards).
For the starting chain I used an L hook (8.0 mm)-body was done using a K hook (6.5 mm) and ribbing rounds were done using an I hook (5.5 mm)
My gauge on this was 3 dc per in/cm-using the K hook
Starting chain was 29 using an 8.0 mm hook (this included the turning chain)
Using 6.5 mm hook
Neck Shaping:
I did row 2 for a total of 4 rows.
Continuing Raglan Increase:
4 rounds total
Forming the sleeves: (started on round 5)
Bodice:
After round two, I did 7 rounds even
For the ribbing (5.5 mm hook)
I did 3 full rounds, which measured a 2 1/8" ribbed edge,
Sleeve Edging: (using a 5.5 mm hook)
I did two rounds of FPdc/BPdc for the cap sleeves.