Well, we did it, finally got our butts to the beach. It was cloudy, sun came out, clouded up, drizzled, sun came out, clouded up.....you get the picture, but who cared?
I had to explain to my SIL that even though she thought "Summer was over-meaning no more beach days", one of the advantages of living near the beach means you can go through September (it should be warm enough) and it's the best time, no tourists. So now we have plans for maybe next weekend or the weekend after.
My brother lives only 2 1/2 blocks from the bay and 1 1/2 blocks from the ocean, so we took advantage of both.
First, a walk down to the bay to do a little crabbing. No luck really, many were too
small and Ernesto was blamed. The only one crab there was Elena was declared the whole things as "Boring!" (All pics are clickable)

The biggest crab of em all!



Elena and I "Down by the Bay"



Setting up the nets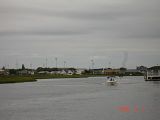 This fascinates me, but may not be so fascinating to you. The Atlantic County Utility Authority put in a "Wind Farm" outside of Atlantic City-up close it's interesting, but this was the view from the bay.

Next, we change and hit the beach. The surf was rough, brutally rough, but we still had fun.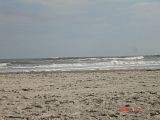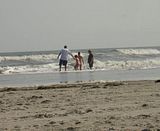 Elena with her dad (white shirt), uncle and aunt.

Finally, my absolute favorite pic of the day, Elena and her Uncle Ron taking a walk.