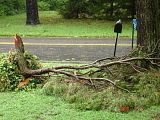 This was just the beginning. It poured all night with lots of wind and I ended up not sleeping well because it was kinda annoying me. Anyway, we woke up to no cable or internet access-which could have been way worse, considering we lose power during thunderstorms and the last one lost it for a long time. Anyway, we awoke to a fire truck down the street and the street blocked off to thru traffic. Evidently an electric wire, cable wire and phone wires were all down in someones lawn down the street-from 6:30 AM the truck was there (Mike got up then). Around 11:00 AM, I called the cable company to see when it would be fixed and apparently the damn fire company neglected to call them about the line being down. I mean c'mon-three phone calls had to be made and ya missed one of em???? I know they didn't call because the cable company hadn't received any calls (apparently we all assumed it was taken care of) and they had me send Mike down to ask the fire department what was going on. My cable was fixed in an hour, but the firetruck stayed down there for another two-I still don't know what they were doing or anything, but I had my electric and phone and didn't care anyway. As you can see, the internet is back up also.
About 1:30 PM, we heard a loud crack and the branch came down. You can see my mailbox behind it and this is the "route" I walk to get to it. Anyway, it fell cleanly, but will have to be chainsawed-I know it doesn't look that big, but it is and it's heavy. Anyway, about two hours later, I am sitting in the living room and I hear another "CRACK" and damn if the tree next to it didn't lose a huge branch (sorry, no pic, the battery was charging), but unfortunately it got caught in the electric and cable wire. Since it's on private property, we have to get it down. Anyway, since we couldn't let it dangle and put pressure on the wires, Mike had to climb up and get it down. Once it was sawed off, we had to use a snow shovel (conveniently on the Christmas light decorated porch from last year) and push it up and over from the bottom of the wire. Meanwhile, the cable guy came out to check on things, even though everything was fixed. He hung out staring at Mike trying to get the branch down, just in case the cable wire came with it. It didn't, but at least then he climbed up and checked the wires (I mean Mike was sawing up there).
We then grabbed dinner at Chili's and I hit AC Moore to spend a little loot-told you it was burning a hole in my pocket. No crochet mags are available anywhere, but I did get to check out the new Simply Soft Tweeds and Shadow and I like the Shadow and would have bought some, but they only had three skeins of the colorway I wanted. I did pick up a ball of Paton's Regency wool to design a scarf to go with the hideously bright winter coat I bought last year while apparently under the influence of too many drugs from being sick. I hate the coat now, but it'll do for now. I am going to try and come up with the pattern and hopefully Wendy will use it for her crochet class.
I also picked up 5 skeins of Caron's new Felt-It 100% wool in Heather. Never heard of it or saw it before, but it reminds me of pencil roving (which I have crocheted before), but I tugged like heck on it in the store, and it stayed together without drafting, unlike pencil roving, but it does look unspun. It only came in variagated colors (one was a very pretty Monet-ish colorway, but I went with the more practical), but I figured I have such bad fulling luck with regular wool yarn, I would try it. $2.99 for 93 yards-not bad at all. I searched for the Paton's SWS, but they had none, so what did I do-I bitched and moaned about it a while and then complained they didn't have the yarn selection I wanted. Mike rolled his eyes and told me when he got a gift card to Michaels last year, I moaned about them too. Well, I need just lots of money to spend wherever, I guess. Anyway, I hit Michaels and picked up one ball of the SWS. I only had $10 cash on me and it's $5.99 a ball (120 yards). They had four different colorways, but the bins were all almost empty. It feels heavenly though and I will probably make the pillow they have on their website, but will wait for coupons, etc.
I did remember the grosgrain ribbon at Michaels and although they had about a gazillion to chose from, still couldn't find what I needed for Rachel's bag. I picke dup some green and will see how it looks-if not, then AC Moore next week.