I had trouble waking up this AM, which was just the icing on the weekend cake. Saturday, full of plans, but Mike had some campaigning to do, so I figured we would do them around 3:00 PM-no, I got sick to my stomach and it lasted all day Saturday-so the day was a wash-including the damn pool is still not closed-now we have to do it this weekend-HAVE TO
Sunday, we all got haircuts, Elena included. Usually my mom cuts Elena's hair, but it need shaping badly, really badly. She hates having anyone play with her hair, etc., so this was a battle. She sat there so stoically and admitted, when it was done, it was "very relaxing" and she plans to do this every month. Her hair looks cute as heck too. We then his Wal-Mart (in the same plaza) for ink cartridges-sold out. The damn printer is still not working, so I thought I would try new cartridges. We come home, about 2 hours later head out to pick up Elena a Halloween costume (no, I don't sew and she needs it for a school party and Trick or Treat-yes, the Cinderella costume still fits, but she wore it last year, yada-yada-yada, get ink cartridges, hit Old Navy for me (gift card), look for a pair of pants to wear to the school teacher thing tomorrow (I have a few pair of regular pants, all are at the seamstress being taken in and up). Anyway, I drop her off at my moms, hit Marshalls, buy the last costume in her size (it's a little tight, but she loves it-although she complained, when she tried it on, that it felt like a big giant "tag" was poking her all over-tulle lining, etc-hopefully with an undershirt and leggings it'll be fine-6 weeks away, so I saved the receipt), found pants for me, top her for and went to Target (for the ink cartridges). Somehow got sidetracked, bought Elena two pair of track pants and left-hit Old Navy, picked up jeans and went to pick Elena up. Get home and realize, NO FREAKING INK CARTRIDGES.
Sunday night-eBay auctions end and I have to fill out delivery confirm crap-decide to wait til morning.
Monday AM (today), no internet connection. Call cable company-will fix tomorrow. Have no addy's for eBay stuff. Mike is running around packing for Cali. Not a happy AM. Around 9:00 AM, I play around for an hour and internet connection is working. Package up eBay stuff-do delivery confirm tickets. Go to local PO-first mistake. They say I can't use the delivery confirm on the 9 x 12 envelopes, yet when I print postage online, I can-damn people. I also find out that the delivery confirm-free online if you print postage for Priority and $0.14 extra on first class mail, is now $0.50 and $0.60 respectively. I have 8 packages to mail. This adds $4 plus dollars to my postage-damn ink cartridges.
Come home, realize Mike is gone for 3 nights and surprisingly, miss him already. Surprisingly because he generally doesn't get home til 7:30-8:00 PM most nights anyway and is gone by 7:30 AM, at the latest weekdays. He also has been campaigning and attending meetings at nights, so honestly, he hasn't been around much, but he's still accessible. Now, he's not. I feel anxious about it too and don't know why. Weird, he's traveled lots for work and I'm usually fine with it-Elena and I do our thing, I get to cook early for us and then hang out and not have dishes til 9:00 PM-I wish I could shake the anxiety.
Tomorrow, is the teacher orientation thing. Anxious again-must be PMS or something.
Anyway, onto crocheting things.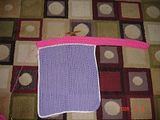 This is Elena's blanket so far. I changed my mind about the stitch pattern after the center square, but it was all fastened off and woven in and I only had the one skein of plum, so I left it. I may or may night crochet a heart or an "E" and applique it to the center. That is my big crochet news.
Also, before I forget, I do that Bzz Agent thing and thay are doing a buzz for
Smart Bargains.com
It's like Overstock.com, but run by Loehmann's. Anywho, I have free shipping coupons-one per customer, expires 12/31/06. In reward code box during checkout, enter the code BZZ. Good for first time customers only.
If you do use the coupon, just leave me a comment or let me know. I need to know for my bzzagent report.