Elena is off to school-new bus company, so some confusion, but she was happy. She went to bed at 9:00 PM and at 11:00 PM was still tossing and turning, listening the "The Best of Sheryl Crowe" for the second time. She's like me, get keyed up and can't sleep. I got her up at 7:00 AM and she popped right out of bed, with a grin on her face. This should last until about Monday and the moaning for "5 more minutes" will begin. I forgot my camera this morning, but Elena exclaimed that she looked "fabulous, almost like a teenager"-she had on pink yoga pants, a pink t-shirt and a pair of sneakers, but whatever.
I started cleaning out her playroom.
Fulling issues-somewhat resolved. I decided to toss in an old cotton (heavy) bathmat instead of the jeans and also added dish soap (thanks
Kathy
) instead of laundry soap-well, it worked.
Only shrunk about 2" each way, but it's much better.
Wendy
told me the Wool of the Andes she dyes herself usually doesn't full well, so I did another experiment. Potholders made with the dyed WOTA and Patons Merino. Both did shrink about 1-2" in total (the WOTA started out a tad bigger)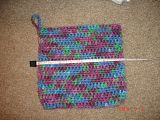 I forgot to take a pic of the Patons before, but did do the measurements and it went down a full inch around.
Also, I didn't toss this in this morning because I forgot and it was blocking (It's a case for my digital camera). This is before I fulled it (it's still wet and needs a button put on)-pics tomorrow.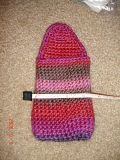 This is the SWS from Patons in the Natural Plum colorway. The stitch definition still shows when you full it, but it gets this super cool fuzziness to it. I love the way it works up-stripes nicely and well, I love the colors. I want to make the pillow they have
posted on their site
in the same colorway for my brother and SIL for Christmas. Heck, I even want one.