I did have some FO's, I just hadn't posted them. Little things, no biggies. I was in the potholder swap at Crochet Depot. This is what I sent (minus one of the fulled potholders because I forgot to take a picture).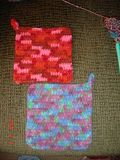 Fulled potholders (I think I already posted these)

Origami Hot Pad
- made larger and I used a bone ring for hanging. This pattern slightly differed from the
Mielke's
pattern and I preferred it to that one.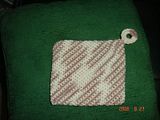 I also made two hot pads. One is the
"Spiffy" CD Hot Mat
, the variegated one. I loved this pattern and the only change I made was that when it was completed, I used the yarn and loosely sewed around the CD so it did't slide. Now I know what I am going to do with all those "Try AOL free" cd's I get in the mail. This was super quick and I'm making some for Christmas presents.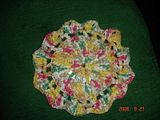 Lastly, using
Wheelsburst Hot Pad pattern
. I made this using a K hook and some of the discontinued Lion Thick Cotton. I had a few skeins of this and couldn't figure out what to do. It's very thick and cordlike. This made a decent size hotpad, very sturdy, and worked up fast.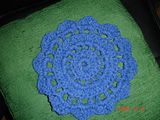 I liked the pattern so much, I used regular Sugar N Cream Cotton yarn, doubled up and used an L hook, and made two cushy doily-type thingies for under the lamps on my nightstand (no upclose pic, maybe later, but a kind of distant pic of it in action)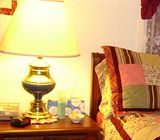 Every pic is clickable-so you don't strain your eyes looking under the lamp (LOL)