The only thing I have accomplished hook wise all week:
Another One Skein Scarf for the Fiber Freaks CAL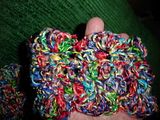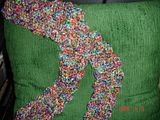 This one was done in a silk blend yarn called "Carnival" that I bought ages ago off of
Elizabeth
Changes: Starting chain was 138. I used a K hook for the starting chain and did the rest with a J hook. This came out more narrow and shorter (shorter starting chain) and I'll probably give this to Elena's bus driver, who is only about 4"10".