Lately, the blog titles have been harder and harder to come up with and now I am recycling titles-pooh
Anyway, I have finally restarted the blanket I ran out of yarn for last week: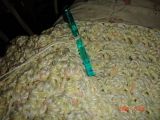 I know, the picture doesn't show anything but the stitch pattern (I did this picture for
Robbie
anyway, who seems to find the Wiggles yarn fascinating). The yarn does work up nicely, but I can't imagine using a small hook with it because those little nubs of color can be a PITA. Knitting might not make it as bad-don't know.
I've been working on potholders/hotpads like a madwoman for a swap I am doing in September-yes, I want them done because I hate the pressure of it hanging over my head. I am done them, however, have been making those and dishcloths like crazy to avoid finishing the blanket and to avoid starting the Bell sleeved pullover. I also want to start
Rachel's
bag and plan to, as soon as I am done the blanket-which looks like tomorrow.
I've made several cool hotpads (if you can call hotpads "cool") and I'll post pics once I have them sent out to their new home. I plan to make several more of one of the designs as little gifts over the holidays-I'll post all that at a later date.
I also decided to tear apart Elena's bedroom over the weekend. It's probably always been the neatest room in the house, but I wanted to straighten out her bookshelf, vacuum under the bed, etc. Well, it started a roll and I actually tore part of my bedroom apart yesterday. I have arranged some of my yarn stash a bit more neatly, but still have to sort all the CE and put that in a tote. I am out of room in my bedroom and really have to clean the downstairs spare/computer room and use it for the storage I want to use it for. However, I always put off the worst room for last and it seems then I never get to it. Besides, there is so much crap in there, I don't know where any of it will go (more then likely the dump), but still-shuffle things around is what I tend to do. I have to really start simplifying things and if I haven't touched it in a year-get rid of it. I did get all the curtains upstairs washed and rehung yesterday and I feel much better about that. As topsy-turvy as I can be housewise, I still do my curtains several times a year, wash the comforters frequently, etc. It must be the laundry fetish thing =)
I did get the returns done over the weekend and a few more pairs of jeans have been purchased. I tend to buy Elena almost all jeans for school because they hold up the best, but now that she's older, they don't have elastic in the back any longer and she actually has to unbutton/unzip them and she already giving me crap. My DD has always been lazy as heck about that type of stuff and I have seen her wiggle out of a pair of denim shorts and not unbutton or unzip them and I cannot figure out how the hell she does it. I did find myself a pair of jeans at Old Navy also. I adore their sizing for women because, although the tops run true to size, the bottoms run a bit off. They size generously-e.g. their size 10 jeans are really everyone else's size 12 jeans, etc. Anyway, at least when I find a size that fits, I can grab any style in the same size and they fit the same. So anyway, I found a pair of boyfriend fit jeans on the clearance rack, in the "short" length, marked down to $8.49. I grabbed them. Forget they had the factory wear stuff done to them (you know, the fraying, etc)-they were $8.49 and I have not one pair of jeans that fit me for fall. I didn't try them home until I came home and they fit perfectly-it was meant to be! Also, apparently, when you buy any adult pair of jeans, you get a $5 giftcard to be used from September 10th for about a week-Sweet, a pair of jeans and a $5 giftcard for $8.49! Plus, I got to stroke my ego by buying size 8's-the only good thing about the whole shopping thing this weekend. Mike and I plan to do more shopping for
us
in the next few weeks, maybe my mom can watch Elena for us.
The weather has been dreary here and, although we desperately need the rain, it's annoying me-three days already and today is supposed to be thunderstorms and rain all day. It's also muggy and sticky out-ick. I have decided we are closing the pool down within the next 1 1/2 weeks. No one has gone swimming in about 2 weeks. Elena was sick, the pool greened up, needs to be vacuumed, it's been raining, etc. I want it cleaned and covered. Apparently, in my mind, summer is now over and it's time to move on.
Elena cannot wait for school to start. She likes being home, but misses the whole "school experience". Next Wednesday-she's begun the countdown.
I still haven't sent in my sub paperwork for scheduling (what am I waiting for? I don't know) and I received another jury duty notice yesterday. The second one in three months. WTF is that? I had a doctor excuse for the last one and I plan to call the Jury Management Office today to see if I'll need another one. Since they started doing the mailing from driver's licenses versus SS#, I get more notices then ever before. I must have had 10 in the past 10 years. Mike got called once, he went, was excused and never received another notice.
I am making
my ziti
tonight. I swear it's been over a year and after reading about
Stacy's
post on it, I decided I would make it. I mentioned it to Mike and he was so excited about it, I forged forward, bought all the ingredients and will start the sauce once I get my butt off the computer this AM. The actual cooking of it is easy, it's all the prep that's a PITA, but we get two meals out of it, so it works out in the end.
Well I have rambled on long enough here. This post has taken me almost an hour due to several interruptions of the phone ringing, Elena asking for breakfast, help with some Polly Pockets, etc.
Have a good day!