We arrived Sunday AM (their time) and since we were up since 3:30 AM our time (which technically meant we arrived to our hotel mid-afternoon our time)-we crashed for an hour. It was a nice hotel, the Hyatt, right on the marina:
Somehow, my luggage and Elena's luggage arrived, but Mike's did not. There was a lot of bitching, moaning, swearing and general disgust that first afternoon-surprisingly, none of it was from myself or my daughter. The luggage did arrive around midnight that night. It was cloudy and
HUMID
, shocking I know (still not as humid as I am used to, but it did shock me anyway). Monday, cloudy, warmish (80 is fine, the natives were cursing the heat gods, as if they really knew what heat was). Mike had meetings and Elena went to a "Build A Bike" Kids Program where they built bikes and donated them to kids who didn't have bikes. Elena was the tool girl. (Somehow a bunch of 4-12 year olds building bikes scares me). After lunch, we went to the San Diego Zoo and Balboa Park:

Balboa Park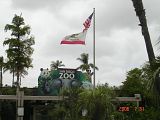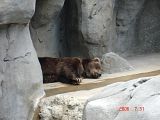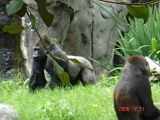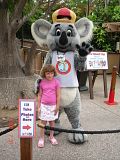 San Diego Zoo
(of course I took more pics, but only uploaded so many-don't wanna bore ya)
That night, we went to Embarcadaro Park-which is on the San Diego Bay for a buffet of food, booze and even games and the slide and bouncy houses for the kids. Kool and the Gang was the live concert for the night and it was fun, relaxing and perfect weather too. This was a private event sponsored by the convention (LPL Investments)
Tuesday-Mike had meetings and after a morning of swimming (the darn pool was only about 60 degrees since there was no sun-ugh) and an afternoon of napping (Elena anyway), we went to Coronado Island for a clambake. We were on the bay, so we took a water taxi to the island, which you could see from our hotel. The clambake was held at the Del Coronado, which was absolutely fantastic. Grilled lobster tails, chicken, ribs, caesar salad, veggies, booze (of course) and even a fire pit with smores for dessert. Another family with a 7 year old girl attended and Elena and Jaclyn hit it off immediately (this was another invite only type thing sponsored by Black Rock investments) and yes, every damn thing at the convention was sponsored, even the hotel keycards were-it was like World Cup Soccer, only many were not in shape). Anyway.this was by far the best thing about the trip-the weather was beautiful (note, blue skies in the background) and Elena got to dig in the sand, go into the Pacific and it was just great.

The water taxi ride and the kids playing in the sand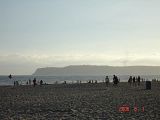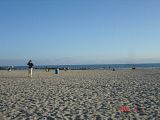 The Beach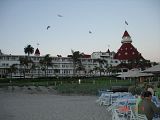 The Hotel del Coronado
Wednesday, I got a poolside cabana massage, while Elena and Mike swam in the spa pool (which was heated, of course). We had lunch, napped once again and then went to the formal dinner for the convention end. Elena went to the kids program for a night of face painting, animal petting (apparently, they brought in a monkey, parrot, tarantula and snake for the kids to play with), game playing and general fun for all involved. Mike and I got to attend the stuffy dinner (it could have been worse, really, but the animals seemed like a little more fun) complete with a Kenny Loggins concert (this is where you say, ooh-ahh, Kenny Loggins and
Natalie
asks "Who the hell is Kenny Loggins??").
Thursday-rain, cloudy again, we left 9:00 AM for the airport-my lighter made it through security (didn't in Philly), but Elena's toy V-Tech computer had to be swabbed for explosives. Plane left 11:00 AM PT and we arrived home 7:35 ET-to 97 degree heat and high humidity. Upon waiting for our baggage, Elena told the lady sitting next to her that San Diego smelled much better than Philadelphia did (I guess having an airport next to the sewerage treatment plant for the city and 97 degree temps don't really mix, hell in the winter it stinks-this was gag stink too). We made it home around 10:00 PM and since, by now we were used to PT, stayed up til one watching Big Brother episodes I had taped. Besides, the house was so damn hot, we had four A/C units going full tilt and it didn't cool off til the wee hours anyway. I unpacked this AM and what did I find in our suitcase full of dirty ass clothes, a slip from the TSA (the security people) that that particular bag had been opened and inspected-ick I say.
Elena denied sleeping at all on the plane (she did for two hours), but I have the proof to show her now. Yes, that's Mr. Blick, her Ugli doll, which goes everywhere like Larry the llama.
This morning I was met with 4 loads of laundry (still 2 more to go), a suitcase full of tzotchke's that Elena picked up at the convention, held mail delivery, an apparent animal fight happened on our front porch complete with overturned 5 gal water bottles, sidewalk chalk scattered all over, an empty 25 gal. Rubbermaid tote (waiting for me to clean it) flipped over and the lid flung somewhere else and a shredded up box containing badminton rackets. Icing on the cake, this AM Mike turned on the wtaer heater on our Bunn coffee pot (the water stays in a heated tank and it makes a pot of coffee in a few seconds once you add fresh water). I guess with the energy crunch of all the A/C and heat, the supply is low (who knows) anyway, it blew a breaker twice and never made any coffee.
All in all, happy to have gone, but just as happy to be home.