My mother stopped out today and brought along her best friend's grandson for a playdate for Elena. She also surprised me with a birthday cake and a few gifts (the big day is Friday, but she had the day off and wanted to get them to me today). First off, I want to state this: I am not a great one for getting presents. I am kind of hard to buy for. I don't really need anything. I always ask for yarn, gift cards to yarn stores or for online yarn stores. My mom hates just giving a gift card. If she gives me cash, I give it back to her. Anyway, the past few years have been tough for anyone to buy me anything at all. My mom doesn't understand the thrill of yarn and the whole "craft" thing is lost on her. She usually gets me something for the house, I thank her and I put it in the spare room and never take it out again. I am not an ingrate about it, but I am trying to get rid of knick-knacks and stuff and really don't need anymore of those, kitchen stuff, etc. If I see something I like, I usually just buy it-so imagine my surprise when she had two presents for me that I adored!
First off, this awesome Fossil bag. It is so soft and I love, love, love it!

Clickable
Then, these copper and stained glass windchimes:

Clickable
You have to click the picture and look at the chimes-they are really nice and I couldn't get a great picture because of the crappy weather we are having here (yes, those are Christmas lights in the background-we never got them down from last year and it would only take about 10 minutes. I blame my husband. Well, at least we are set for this holiday season-which is around the corner)
Anyway, I am all excited today about my pressies-not because I got them, but because they were both perfect!
I also received some beautiful yarn in today's mail. I did a swap with
Lady Garnet Moon
and received some recycled sari silk yarn today. I have been dying to try this and yes, have heard the nightmare stories people have posted about how hard it can be to use, but I had to try it and I am glad I got some.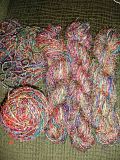 I plan to make a bag like
this one
. Of course, I will have to line it, but I'll cross that bridge when I get to it. I plan to use some bamboo handles for this one. I also have some cool acrylic round handles with a marbled look to them-so I'll have to decide. I have about 6 pair of handles upstairs, so I can play around with it. Or maybe a rectangular bag.........hmmmm. Yes, I couldn't wait to wind up a skein and not being the most patient person, I attempted to answer emails, check out Fiber Freaks, and answer an IM and wind said yarn at one time. It went okay *snort*. Yes,
Lani
, I have that completely wicked awesome swift upstairs and the ball winder, but I was only going to wind one ball this way. I love using the swift and winder, but was lazy and didn't want to set it up for one hank. I promise the rest will be pretty little silken cakes.
Speaking of cake, I believe there is a slice out there waiting for me!