I finally finished the second set: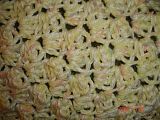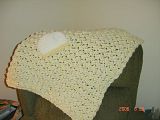 Now, I can move onto the fulled bag I want to test and then the Bell Sleeve Pullover.
I also did make my ziti last night and, after Elena balked for about 1/2 hour about the ricotta cheese mixture being "gross", she tasted it and exclaimed "My that is fine ziti!". So there you have it. My fav part is that it's better the second night-flavors meld together.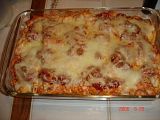 Today, another day of rain and stuff before Ernesto's rain comes this weekend (and ruins my one beach day, I might add), Elena and I are going to make
Stacy's Granola Bars
.
Also, one last pic-I made this for a blogging buddy several months ago as a baby present and never posted it. It's a FO and it counts! I used Homespun Aquarium for it.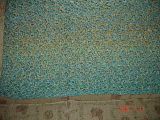 Well, I'm off......somehow Mike's work sock decided to split up and one from each pair ran off with another one from a different pair-I don't know how this happens, but it always does and it's only with Mike's socks-go figure???