I finished it up tonight.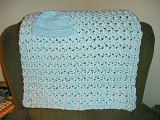 (clickable pic)
It's a carseat/crib/stroller blanket and little hat. The pattern is the
Bubbles Baby Blanket
and the hat is the
SLK Baby Hat
. I used WW for the hat and it's a little bigger then a newborn, but the baby was already born and won't be a newborn by the time he gets to wear it-besides those little heads are really bigger then you think, at least they feel that way when you give birth to them (LOL).
Yarn used was Caron Simply Soft in White and Soft Blue-about 15-16 ounces total for the blanket and about 1 1/2 ounces for the hat (done in just soft blue).
Well, now to start the other set......