I finally sorted it out today and it's bagged by dye-lots. Each individual bag is an individual dye lot-so as you can see, lots of mixed lots (except for the red-I have 8 skeins same lot there). I bought some of this, some was gifted to me,, by some awesome people, over the past two years and I saved it and now it's all sorted in it's own special tote. Now, I want to make something, but need your help.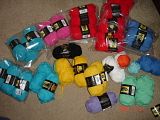 Clickable
I am planning to make Elena a rectangular granny square ghan (the little squares are a PITA). I have to decide what colors to use and how much total yarn I will need. I also have to figure out to change the colors (do you do it after rows of so many inches or do I just kind of do a single skein center square and then work around???). I have never done a granny square ghan-heck, never did a regular sized ghan which is what I want to make here. Any pointers are appreciated because, well, I cannot figure it out. It's not like I have one main color and one contrasting color-don't have enough of any one color to work with (yes, the red, but Elena doesn't want red).
Colors she wants-the popsical (how they spell it) blue, pink, plum-I may be able to talk her into the pineapple with it. Hell, she'll get whatever colors I can make work, but I won't push the red or the candy blue on her-I kind of wanted light and bright for the blanket. I can use the red to make her a bolero. I don't care about the matching dyelots of the pineapple (none are matching) because I'll do several rounds from one skein and non of the skeins will be joined-they'll be separated by other colors. what I should have done was got 10 skeins of the pink and just gone with the pink and blue-but this is supposed to use some of the single skeins in the stash-not make me buy more.
What about 13" squares (12 of em, joined with popsical blue) like the
Monet afghan
? Main color is 40 ounces and joining color is 21 ounces. Each skein of CE weighs 3 1/2 ounces, so the blue would kinda be okay, although I would have to use 2 dyelots. The squares are done in rows, so I could look for 13" or 12" granny square patterns or just make it easy and do the rows-but it's not variagated yarn, so will it look okay??? Each squares takes a little over 3 ounces of yarn (by my calculation), so I could do two pink, two red, two pineapple, two blue, two pistachio and damn, see not enough. I only have one skein of the plum too.
Suggestions here please-I am on some sort of brain freeze for this project. I mentioned this, but will mention it again-I have never made a regular sized ghan and any ideas for scrap ghans, etc would be appreciated and I will adore you forever. See
Jaye
, aren't you sorry you asked about it now???
Any of the leftover half-skeins will be used to make chemo caps as my
"25 Things for Charity"
. I have a box of scarves and some caps already done, but won't post them all until all 25 are done.